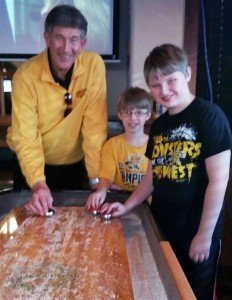 Attorney Gary Patterson is a die-hard Wichita State Shocker fan. He likes to hear the roar of the crowd at Koch Arena and watch the game with hundreds of yellow-clad fans. This season Patterson Legal Group has provided tickets for dozens of lucky Facebook winners, but this past weekend, Gary enjoyed the company of a very brave and special guest.
Seated in the private room at a local restaurant reserved for PLG's contest winners Gary met 10-year-old Kody, his older brother, Donovan and his dad, Mike. For Kody and his mini entourage, having the chance to attend the game was another milestone on his road to recovery.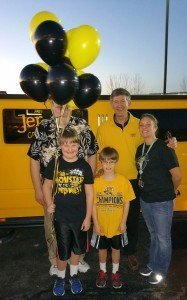 Patterson says that the best part of the event was being able to provide basketball packages to people in the community who might never be able to afford such an event. For the February 7 game, they offered tickets to the Make-A-Wish foundation. Ten-year-old Kody, a super Shocker fan who has been battling Leukemia since he was three years old, was excited to receive the invitation. Make-A-Wish of Kansas grants wishes for children ages 2.5 to 18 who are battling life-threatening conditions.
Before the winners filed into a Hummer Limo to go watch the Shockers take on Missouri State, Kody munched on pizza, nibbled on his dad's Fish-n-Chips and even schooled Gary at the shuffleboard table. During the game, Kody's dad said he enjoyed the noise of the crowd and the activities at halftime like the jugglers and free-throw demonstrations. Kody's favorite part of the game, "The Shockers beating the other team." Dad was quick to point out, "He really enjoyed that."
Today, although Kody is in remission, he continues to have his blood drawn every week and routine checkups with his oncologist. "He's a tough little kid, but he's always been really happy," said Mike (Dad). "We hope the worst is behind us and now he'll be okay." Gary had a great night spending time with this young man and his family. We wish them all the best.