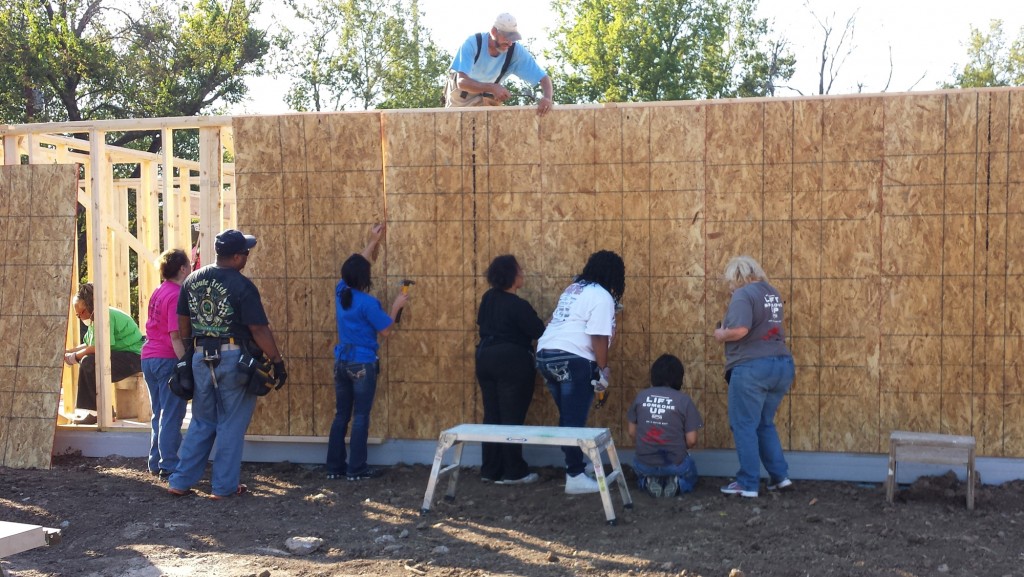 Under a blue sky that threatened rain by the afternoon, the women of Patterson Legal Group shucked their corporate outfits for sneakers and jeans as they gathered for the All Women Build hosted by Wichita's Habitat for Humanity.
For several hours on Tuesday the women (and a few male supervisors) met in an inner city neighborhood to nail plywood, cut support beams and contribute to a project very near and dear to Ann Patterson's heart. In the area of 12th and Poplar, the Habitat for Humanity group is not only building homes, they're building hope and giving deserving families a shot at affordable home ownership.
As President of the Board of Directors for Wichita's Habitat for Humanity for two years, Ann has seen the process go through several changes but the goal is always the same, "be a good neighbor." Over the last decade, Habitat Wichita has gone from seeking out large plots of land to build subdivisions, and instead, focused their resources on neighborhoods within the city that already have a working infrastructure.
Located on the same block as the new construction site, you'll find three lots waiting patiently for their turn to host a new building and three completed homes. Careful consideration was given to this location and ultimately it was deemed to be desirable because of the close proximity to community resources. A full service grocery store is within walking distance, as well as the new 64,000 square foot Spaght Elementary school.
Next door to the home that the group was working on today, Ann was excited to point out a residence that will be the first "owner-occupied" rehab project. Jutting out from the front door is a wheelchair ramp used by the current occupant whose grandmother originally owned the property. In the yard sits a wishing well that was rescued from the overgrowth in the backyard.
Over the years, both Ann and Gary have held positions on the Habitat Board of Directors. They continue to remain actively involved with the group because with each new roof that goes on and each new appliance (provided by Whirlpool) that slides into place, they see tangible proof of a life-changing moment for one hard working family.
Volunteering your time for a day or even a few hours is as easy as visiting the Habitat for Humanity site and following the links to the volunteer page. And remember each time you shop at a Habitat for Humanity ReStore, a portion of your proceeds goes directly toward Habitat Wichita.