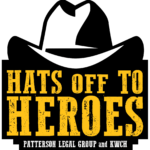 Patterson Legal Group has been working to help charitable organizations in our community for more than 20 years and we now have officially mobilized our employees into organizing our help. Our entire staff worked to form a new committee, Patterson Legal Group Give, to give back to our city. At Patterson Legal Group, we take pride in our Patterson Legal Group reputation and lead by example to uphold it. Actions speak louder than words…and our newly formed committee is determined to do just that!
---
Each Thursday, the staff at Patterson Legal Group voluntarily pay to wear jeans. Not only are we comfortable as we fight for our clients, but the money saved is put to good use. In 2017, our team created the Patterson Legal Group Give, a committee formed to find ways we can help, whether it be time or treasure, in our wonderful community. Thursday's staff jeans donations along with money from Patterson Legal Group helps fund Patterson Legal Group Give. Each staff member took turns monthly in choosing a local organization to which our money or volunteer time would be donated.
---
One organization Patterson Legal Group's team helped with was AVID, a program designed to prepare middle schoolers and high schoolers for collegiate futures. Gary and Tyler participated in mock interviews to prepare the middle schoolers for a brighter future. We were able to donate school supplies for two new teachers and spent time organizing mountains of supplies at the Salvation Army. The Patterson Legal Group were able to financially help three high school students by providing college scholarships to them.
---
Education and the future of our youth is extremely important to our firm. The Patterson Legal Group reached out to Bridges, a program through the Wichita Children's Home benefiting young adults who have aged out of the foster care system. Many of them have no support system and are living independently while still in school and starting jobs. Our team adopted all members and their children, donating Christmas presents to each one so as to be certain no one was forgotten.
---
Other organizations the Patterson Legal Group gave to benefit local children and families were Wichita Crisis Center and the Ronald McDonald House, where we volunteered and cooked dinner. Our time spent at the Ronald McDonald House provided for families to spend more of their own time with loved ones at the hospital.
---
Did we mention the Patterson Legal Group love animals? Our team spent time helping set up Woofstock and also provided water and cookies to Wheel of Fortune Ranch, which enables children and disabled adults to have the ability to interact with animals including horses. Another fun event we contributed to was Pando Initiative's 100 Men Who Cook, a benefit for the charity who works to connect students and help them thrive in the community. Gary helped cook and even won the award for best dessert!

---
With the end of the year comes the holidays, which can be a less than joyous time for those in need. Patterson Legal Group heard that Bread of Life, a food pantry, had lost a big supporter and used our team's Patterson Legal Group Give funds to enable their work to continue. We happily provided monetary support to Bread of Life during Thanksgiving as well as giving warm meals for individual needy families, which were nominated and chosen by our staff. Our team also volunteered to sort food at the local food bank to help the hungry during Thanksgiving.
---
During the 12 days leading up to Christmas, the Patterson Legal Group practiced random acts of kindness by handing out gift cards to unsuspecting people. These acts included gas cards to people fueling up, rolls of coins to patrons at a laundromat or giving gift cards to people with full shopping carts at both Aldi and Walmart. Their reactions were the best gifts in our opinion!
---
At Christmas, our firm partnered with local Mary Kay ladies who had the idea of remembering the lonely in area nursing homes. We provided some funds and helped stuff over 600 stockings. We proudly acted on their vision to bring a ray of sunshine to those who would otherwise be forgotten in nursing homes.
---
Finally, the Patterson Legal Group gave by taking our Hats Off to Heroes, a program very special to us. Our firm has partnered with KWCH to recognize and honor local heroes. During home Wichita State University Shocker basketball games, attendees in the stadium remove their hats to recognize deserving chosen nominees that have been submitted by the public.
---
The Patterson Legal Group was honored and thrilled to help reach out to such a wide variety of deserving organizations in our community and encourage others to give time or financial help if possible. The feeling of giving is one of great reward and we are blessed to have this opportunity. We consider our first year of Patterson Legal Group Give to be a great success. Thank you for an amazing 2017, Wichita. We look forward for what's to come in 2018!